When is the best time to visit my dentist? Is it important to get my dental checkup done every six months? How often have these questions come across your mind? We have compiled a few guidelines for you on when to visit your dentist.
Although there is a typical rule of visiting a dentist every 6 months, it is not necessary that it is applicable to everyone. Read on to know more about the frequency of your dental visits, why visiting a dentist is important and how you can minimize your visits to the dentist.

HOW OFTEN SHOULD I VISIT A DENTIST?
If you have never been to a dentist in your life, it is high time that you plan a visit. It is important to get a thorough examination of your mouth done to know the status of your oral health. Every individual has unique oral health needs and risk levels which should be reflected in the frequency of check-ups. An oral health professional is the best person to decide when and how you need to plan your next visit according to your risk level. Depending on your oral hygiene, habits, and individual medical conditions.
While some individuals only need to visit the dentist once or twice a year, others may need to go more often. So, your dentist would inform you when to schedule your next appointment.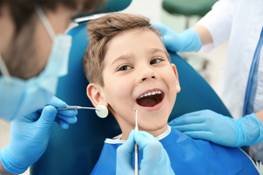 WHEN SHOULD CHILDREN VISIT THE DENTIST?
The FDI World Dental Federation recommends that a child should get their first dental checkup done between the ages of 1 and 2. As with adults, children also need to schedule their dental visits depending on their individual requirement and risk assessment. Often, it is easier and more convenient for families to visit the dentist together. Also, regular dental visits from childhood would encourage better oral hygiene practices in kids and would make them more comfortable around dentists from the beginning.
WHY IS IT IMPORTANT TO SEE YOUR DENTIST?
No matter what the required frequency of your dental visits is, you should make it a point to see your oral health professional more regularly for a routine check-up. This would ensure that your dentist catches the first sign, if any, of a cavity, gum disease or even oral cancer. If detected early, a dental issue could be treated more easily or rather, be preventable if the dentist observes certain risk factors. If there are any red flags, your dentist would find solutions to those and that will save you time, discomfort and even money in the long run.
WHO SHOULD VISIT THE DENTIST MORE OFTEN?
There are a few people who are blessed with stellar oral health, but many high-risk individuals need a lot more frequent dental visits to maintain their optimum oral health. This group includes the following people:
Pregnant women: Pregnancy can invoke inflammation of gums that can induce other oral health issues and needs to be checked every 3 months.
People prone to a lot of plaque and tartar buildup: This could be either due to your genes or due to your inability to maintain good oral hygiene. Either way, ensure to see your dentist every 3-4 months to get a thorough cleaning done.
Diabetics: If your blood sugar levels are chronically high, that promotes the growth of harmful bacteria in your mouth. These bacteria combine with the food particles in your mouth to form plaque that can either cause tooth decay, bad breath or gum diseases. It is thus important to see your dentist more than twice a year.
Smokers: Smoking invariably raises your risk of getting oral cancer, periodontal (gum) diseases and other oral diseases. Visiting your dentist more frequently would help address any red flags and avoid major health issues from sprouting up.
People with gum disease: Tending to gum disease timely is critical to maintaining dental as well as total body health. Frequent cleanings and oral health assessments are required in order to have good oral health.
People with heart disease: Poor oral health has led to more incidence of cardiovascular problems as the bacteria in your mouth can make their way to the heart through the bloodstream. Thus, getting regular dental cleanings and checkups may reduce the risk of developing heart diseases.
People with a weak immune response: In general, if your immune system is weakened due to any reason, it is healthier to get more frequent dental cleanings.
HOW CAN YOU MINIMISE YOUR VISITS TO THE DENTIST?
To keep your oral health issues at bay and minimize the frequency of visiting a dentist, the best thing to do is undoubtedly maintain good oral hygiene. This can be done by brushing your teeth twice a day, rinsing with water after every meal, and cleaning between your teeth daily using dental floss, interdental brushes, or an oral irrigator. And guess what? If your dentist might even reduce the frequency of your visits if there are no/reduced signs of gum inflammation or cavities.
PROTOCOL FOLLOWED AT INDIADENS
Indiadens is one of the best dental clinics in Delhi NCR. It has two branches; dental clinic in West Delhi and dental clinic in South Delhi. The South Delhi branch is in the Safdarjung Development area adjoining Hauz Khas and the West Delhi branch is in Paschim Vihar. It is very well known for its superlative dentistry at an affordable cost. The team of doctors working with Dr. Ujjwal Gulati (Founder and Director) is highly respected.
At Indiadens, after the treatment, every patient undergoes an oral hygiene counselling session. The patient is followed up at 3 and then 6-month intervals. Then patients are divided into three categories:
Vulnerable oral condition: This includes patients who have had multiple dental treatments or have deleterious habits or have poor oral hygiene or any systemic disease which indirectly affects oral health. These patients are reviewed every 3 months.
Moderate oral condition: This includes patients who have reasonably good oral hygiene and have been cooperating well with oral hygiene instructions. These patients are called after 6 months or "as and when required".
Excellent oral condition: This includes patients with immaculate oral hygiene habits, very little or no dental intervention history, no deleterious habits or who have been on follow up from 6 months to one year and have shown promising improvement in oral condition and hygiene habits. These patients are called for check-up after 1 year or "as and when required".
Now you know that the frequency of your dental visits depends on your unique smile condition.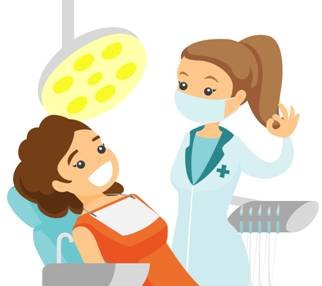 But no matter what, visiting the dentist is a preventive measure that would only improve your overall health and make things easier for you in the long run. Remember to always follow your dentist's advice in terms of your next appointment. If you maintain your oral health well, your number of dental visits may cut back too. So if it has been a while, it's time to call us at +91 9811426442 or book your appointment online with Dr. Ujjwal Gulati.