Are you someone who is looking forward to getting a smile makeover but is also apprehensive of the discomfort and pain caused by the conventional braces or metal clips for teeth?
Have you come across the terms 'Aligners' and 'Invisalign' and wondered what they are all about?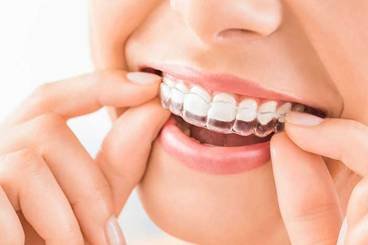 A lot of people are seeking answers to this question, so let us help you understand what is the big deal about aligners.
WHAT ARE ALIGNERS?
Aligners are one of the modern treatment modalities which have revolutionized the field of orthodontics. It has become a miraculous modality for the alignment of teeth for all the people who are reluctant to wear braces because of one or the other reason.
Aligners are a series of transparent, removable, custom-made trays that cover your teeth and gradually pull them gently into the desired position over time. They are used as an alternative to braces for adults to straighten their teeth. They are gaining popularity as they are clear, not easily visible, and can be removed for eating, brushing, and flossing, hence making patients much more comfortable throughout the treatment.
WHAT ARE ALIGNERS USED FOR? / HOW DO I KNOW IF I NEED ALIGNERS? / AM I THE IDEAL CANDIDATE FOR ALIGNERS?
Aligners or clear aligners are completely custom-made for your teeth and straighten your teeth over time. They are considered great for people who have:
Crooked teeth
Crowded teeth
Spaces between teeth
Overbite
Crossbite
Openbite
Underbite
If you feel you have either of the above, you could schedule an appointment with us for an orthodontic consultation and we can help you decide what treatment option to choose.
WHAT IS INVISALIGN? IS INVISALIGN THE SAME AS CLEAR ALIGNERS?
If this is another question running through your mind, then let us clarify this as well. There are many companies that manufacture custom-made or clear aligners. The industry pioneer in clear aligner technology is Invisalign by a US multinational medical device company called Align Technology.
However, with competitors cropping up in every field, there are various other companies that are now manufacturing clear aligners. For example: 3M (USA), Straumann (Switzerland), K-Line (Germany).
COST OF ALIGNERS / INVISIBLE BRACES IN INDIA
The cost of clear aligners or invisible braces in Delhi at Indiadens primarily depends on the patient's smile restoration needs. Further, there are more factors determining its cost. They are:
The complexity of the case
The duration of the treatment
The brand of aligners chosen
The number of aligners required (most important factor)
However, considering its effectiveness and convenience in getting a perfect smile, the treatment is worth all its costs.