Congratulations!
By opting for orthodontic treatment, you have taken the first step towards achieving a well-aligned, healthier and more pleasing smile!
However, did you know that your compliance with care and efforts you make to keep your teeth and braces clean and healthy will be instrumental in the success of your treatment – whether you will be wearing traditional braces, clear aligners (aka invisible braces) or any other orthodontic appliance?
Throughout the course of orthodontic treatment at Indiadens in Delhi, India, your orthodontist will provide you with specific instructions for care and will keep you well informed as to what you can expect to feel with your appliances.
Always feel free to ask any questions at any point in time. The doctors at Indiadens will readily address all of your concerns.
Here are a few basic after-care instructions for your braces;
If you wear braces or orthodontic appliances, DO NOT:
Do not eat hard food like nuts, raw carrots, sugarcane, popcorn. They have a tendency to break the brackets.
Do not eat sticky food like pizza, caramel sweets, toffees, etc.
Do not eat food items that you bite from the front teeth, like apples, guavas, pears, meats, corn on the cob, etc. Cut them up into small pieces before eating them.
Do not chew on ice or gum.
Do not chew on inedible items like pens, pencils, nails, etc.
Avoid any food/drinks with strong colours like tea/coffee, curries, red wine. They may stain the elastics on your braces. If, however, you consume such items a day or two before your scheduled appointment, we can change your stained elastics to new, clear ones.
Do not forget about your regular dental appointments.
If you wear braces or orthodontic appliances, DO: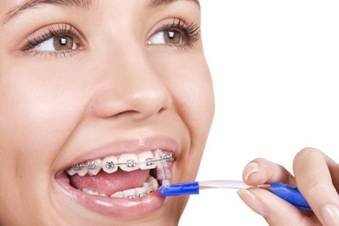 Keep your mouth and appliances clean with regular brushing (at least twice a day). Use a soft toothbrush or orthodontic toothbrush (Colgate Ortho / Stim Ortho).

Brushing after every meal, and flossing at least once a day, is the best way to ensure that your teeth and gums remain healthy throughout treatment. It is also recommended that you brush your teeth after eating snacks. However, if you don't have a toothbrush handy, at any time, you can clean your mouth by rinsing vigorously with water.

You may add other useful items like dental floss, a small interdental toothbrush or an oral irrigator (water pick) to assist you in keeping your appliances, and all of the small spaces around your braces, clean. Make sure to see your general dentist regularly for routine care and to have a thorough dental cleaning.

Rinse with mouthwash regularly to keep your gums healthy throughout the treatment.
Wear your appliance and elastics exactly as directed.
Keep your appliances safely in their cases when not being worn. This will prevent their accidental loss or damage.
Inform us within 24 hours in case of any breakages in your appliance.
If you feel any pressure or pain, you can take an analgesic as prescribed – Tab Zerodol SP / Tab Ketorol DT.
If you get ulcers in the mouth, apply the medication as prescribed – Dologel CT / Gee-X.
WHY INDIADENS?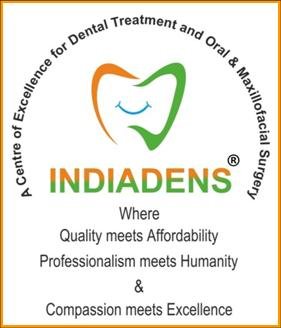 Our team: A team of astute clinicians from all specialities of dentistry led by our founder and director, Dr. Ujjwal Gulati.
Quality assurance: Excellence in work and skills comes with Indiadens Quality Assurance.
Cutting edge technology: Indiadens is well known for its state of the art infrastructure and ultra-modern equipment. It is one of the few centres in the country to possess a dedicated minor OT, inhalational sedation facility, dental lasers, etc.
Lab support: Indiadens enjoys support and tie-ups with internationally acclaimed laboratories.
Luxury experience: At Indiadens, our patients can relax in a soothing and elite ambience. The ancillary staff is extremely courteous. Priority appointments are given to nullify the waiting time. The whole treatment process and experience comes with a personal touch from Team Indiadens.
Affordable pricing: The professional fee at Indiadens is extremely reasonable as per our motto of "Quality meets Affordability".