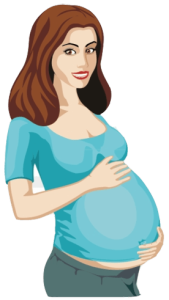 We strive everyday to exceed patients' expectations by doing the appropriate treatment with extreme care and delicacy.
As a part of our patient care and education we here provide information to the patients benefit of developing healthy oral habits. Here is a write-up for the pregnant patients to know about the dental problems which can arise during pregnancy and the oral care to be taken care while planning for pregnancy.
Dental Problems During Pregnancy
Should you be consulting your Dentist while or before planning your pregnancy?
The question may sound weird but the following write-up will explain that "Why would it be wiser to do so?"
Pregnancy causes many hormonal changes in the body which have many secondary effects. The oral cavity or your mouth is not devoid of such issues.
It's very important for you to take good care of your gums and teeth when you are pregnant.
Common dental problems during pregnancy are as follows:
Gum Problems
If you are at a risk of developing gum disease in pregnancy, the rise in hormonal level (estrogen and progesterone) during pregnancy can cause swelling of gums. This makes you more vulnerable towards deposition of tartar causing gum inflammation which is called "Pregnancy Gingivitis". Soreness, swelling and bleeding from gums are signs of pregnancy gingivitis.
Sometimes certain growths on gums called "Pyogenic Granulomas" or "Pregnancy Tumors" are also noticed in pregnant women. They can cause profuse bleeding easily even with a light touch.
These problems are more common in females with compromised gum health. So, it can be avoided if you consult your dentist while or before planning the pregnancy.
These gum diseases if not taken care of can lead to infection of supporting structures of tooth (periodontitis) which can lead to tooth loss.
Gagging while Brushing Teeth
Gagging in pregnant women is quite common but the intensity or severity of gagging is variable. This is sometimes compounded or further worsened by the act of brushing. This results in reluctance in brushing. When this happens regularly, the chances for cavities increase manifold.
Tooth Decay
Morning sickness in the first three months of pregnancy is very common. Vomiting can expose your teeth to stomach acids which can lead to loss of enamel(dental erosion). This can increase the risk of tooth decay. Changes in diet can also cause tooth decay.
Loose Tooth
High levels of the hormones, progesterone and estrogen during pregnancy can temporarily loosen the tissues and bones that keep your teeth in place. This can make your teeth loose.
Hormonal changes which have occurred will become normal after the delivery but some damages that have been created cannot be taken back. So one has to take good care of dental health during pregnancy.
Things to be taken care of:
Oral Hygiene Measures:
Brushing twice properly
Regular flossing
Rinsing your mouth after every meal
Diet:
Avoid sweet and sticky food during your cravings
Brush or rinse thoroughly after having sticky, sugary food
Eat healthy diet like fruits and vegetables
Gum Health:
Do not stop brushing if you notice bleeding gums as it is often noticed during pregnancy.
While gum problems resolve after delivery, few women may develop a deeper level of gum disease that will need treatment after pregnancy.
Vomiting:
Alter the brand of toothpaste if that leads to gag or vomiting. Use fluoridated toothpastes.
Use a small headed soft toothbrush which shouldn't cause gag while going back to the area of the mouth and gently brush that area.
In case you vomit, rinse your mouth thoroughly with plain water to remove the stomach acid which is there on the teeth surface.
Visit your dentist before planning for pregnancy and get the checkup and required treatments done in order to avoid any treatment during the pregnancy period. Taking care of your teeth is important at any stage of life, but during pregnancy, oral and dental changes which occur cannot be ignored. If you take care of your teeth before pregnancy then there will be less chances to have dental problems during pregnancy.
What makes Indaidens special?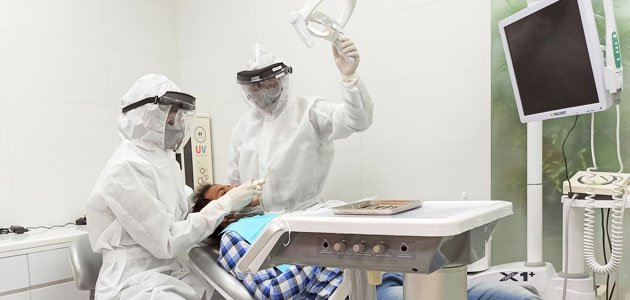 Highly skilled and experienced surgery team: The surgery department is headed by our Director and founder "Dr. Ujjwal Gulati", who is one of the best Oral & Maxillofacial Surgeon and is well-known for his proficiency in dealing with highly complex oral and maxillofacial surgery cases. He has been awarded "Best Dentist of the Year award" for his professional excellence.
State-of-the-art minor OT: We have an in-house minor operation theater equipped with an ultramodern armamentarium to render the best treatment under ideal sterile settings.
Inhalation sedation: The OT is also equipped with an inhalational sedation/conscious sedation/nitrous oxide facility for apprehensive/fearful patients.
World-class infrastructure and equipment: The surgery department at Indiadens is equipped with ultra-modern equipment like atraumatic electric motors, piezosurgery unit, laser, and PRF(platelet-rich fibrin) centrifuge, etc. to give you the best surgical experience.
Reasonable charges: The icing on the cake for all patients is that in spite of such high-quality standards in infrastructure and human resources, the cost of treatment at Indiadens is extremely reasonable.
Indiadens is one of the best dental clinics in Delhi NCR. It has been awarded "The Most Promising Clinic" for its international standard infrastructure and protocols followed. The motto of the clinic is "Where Quality meets affordability, Professionalism meets Humanity and Compassion meets Excellence".