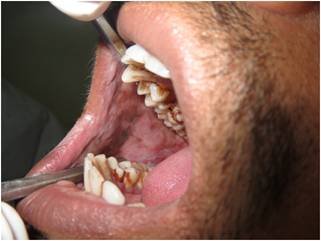 OSMF stands for Oral SubMucous Fibrosis, is mostly present in South-Asian regions particularly in countries like India, Bangladesh, and Pakistan, but it can occur in other populations as well. It is a precancerous condition in which there is thickening and stiffening of oral mucosa and if it is left untreated it has the potential to turn into oral cancer.
CAUSE
It is most commonly associated with extensive chewing of arecanut and betel quid (pan and supari) which contains a high concentration of certain chemicals like alkaloids, tannins, etc. that can cause extremely harmful effects on oral skin and tissues.
Other factors like nutritional deficiencies, genetic predisposition and autoimmune disorders may also play a role in the development of OSMF.
SYMPTOMS OF OSMF
Progressive difficulty in opening the mouth.
Burning sensation in mouth while consuming spicy or hot foods.
Thickening and hardening of mucosa or lining of the mouth.
Cracking of corners of mouth
Difficulty in speech
Painful or difficulty in swallowing
Reduced taste sensation in mouth
Changes in texture and color of oral tissues, sometimes associated with ulcers and blisters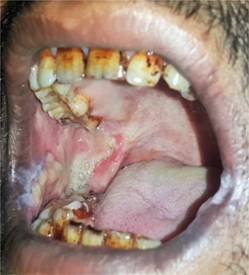 TREATMENT OPTIONS FOR OSMF IN DELHI, INDIA
At Indiadens, which is one of the best dental clinics in Delhi NCR India, OSMF is treated according to the severity. Indiadens Dental is also one of the top dental clinics for dental implants and other oral and maxillofacial surgeries. The team is headed by Dr Ujjwal Gulati, who is well known for his expertise in Oral and maxillofacial surgery and dental and zygomatic implants.
MILD TO MODERATE CASES ARE TREATED WITH
Discontinuation of betel nut and other harmful habits
Medicines
Regular mouth exercise/physiotherapy
Nutritional supplements to treat underlying nutritional deficiencies which may aggravate the condition.
Laser treatment has been suggested as a potential treatment option for oral submucous fibrosis (OSMF). The laser is used to remove the fibrous bands that cause limited mouth movement and other related symptoms. It is a less invasive option compared to surgery in mild to moderate cases with good results.
Indiadens is one of the few dental laser clinics in Delhi NCR, India. It is equipped with laser from BIOLASEⓇ (USA). Following is one of the patients with life changing experience after laser treatment of OSMF.
In severe cases, surgical interventions such as excision of fibrotic tissue, and modified coronoidectomy may be necessary.
Nasolabial flap surgery for oral sub mucous fibrosis (OSMF) is a surgical procedure in which a flap of tissue is taken from the side of the nose and transferred to the affected area of the mouth where OSMF has caused scarring and stiffness of the oral tissues. The flap of tissue includes the underlying blood vessels, allowing it to survive and integrate with the surrounding tissues. This surgery aims to improve the mouth's functional and cosmetic aspects by releasing the area of strictures (narrowing or tightening) caused by OSMF. It also helps to increase the mouth's ability to open and move, improving speech and eating ability.
Prevention of OSMF is the best approach, which generally involves avoiding the use of tobacco and betel nut products and having regular dental check-ups. It is important to treat OSMF early to prevent any complications like oral malignancies.