Do you brush and floss your implants like regular teeth or do they need special care?
Does food get stuck underneath the fixed implant crown or bridge?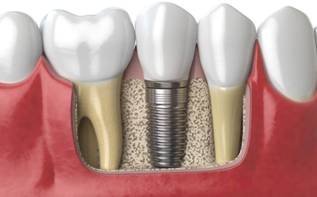 If you are concerned about the home care that your dental implants would require, this blog would help you understand the significance of maintaining your implants at home.
Indiadens is counted amongst the Top Rated Dentistry Services Centres across Delhi NCR. There are many factors behind this Centre of Excellence grabbing limelight. The Best Dental Surgeons work with the finest equipment, state of the art infrastructure, world class biomaterials, in an organized and systematic approach is a rare sight. At our centre we emphasise equally on planning before procedures and immaculate follow-up or after-care is a part of our system. In this section we will highlight the importance of after-care of implant supported teeth.
Why dental implant home-care is important?
It is essential to learn about the correct way to care for your dental implants. Good oral hygiene is must before, during, and after placement of dental implants to ensure good health of the implant.
The implant becomes more prone to bone loss and inflammation due to the biological differences between a dental implant and a natural tooth. It is true that dental implants do not decay, but the surrounding tissue can get infected (e.g., peri-implant disease).
The absence of keratinized tissue makes the implant more susceptible to pathogenic bacteria, thus leaving the implant vulnerable to peri-implant disease.
To ensure optimal peri-implant health, the patient must maintain oral hygiene.
Below you'll see some helpful tips on making the most of your dental hygiene when you have implant-supported crowns.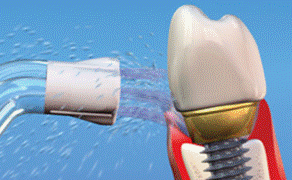 Follow these tips for a good implant hygiene:
Use a small, soft, manual toothbrush or electric toothbrush. Brush twice daily to remove bacterial plaque with a low-abrasive toothpaste.
Use dental floss to clean around the implant crowns. There are many types of floss available in the market, and generally, the unwaxed type or implant-specific floss is advised to protect the tissues surrounding the implant.
It is highly recommended for patients to use water irrigators / oral irrigators with a non-metal tip for thorough cleaning of hard-to-reach surfaces around implants. Water irrigation, used with diluted antimicrobial rinse has proven to be extremely effective.
Nylon-coated interdental toothbrushes are excellent means to clean tight and hard-to-reach areas around implants and prostheses. It is important to brush under, around and in the peri-implant crevice circumferentially. Make sure there's no metal wire as it would prevent scratches on the implant and prosthesis. The interproximal brushes can be dipped in non-alcoholic antimicrobial rinse solutions.
Antimicrobial mouth rinse. For implants with peri-implant infection or mucositis/ implantitis, start using interdental or end-tuft brushes dipped in non-alcohol antimicrobial rinse or chlorhexidine gel. Apply the antimicrobial to the infected area twice daily and continue with this protocol until three to six week re-evaluation.
Regular follow-up is always recommended. Although the high predictability and long-term success rate of dental implants is well documented in the literature, complications and failures can occur. One month follow-up for a soft tissue assessment is usually done, followed by a three-month evaluation. The second follow up is essential for an oral hygiene maintenance evaluation, occlusion and bone level assessment. Further instructions are given if needed. This kind of examination is repeated after 6 months and then yearly for the first three years.
Thus, careful monitoring and early intervention can usually prevent minor implant complications from becoming serious or irreversible.

Learn more about Dental Implants; their success rate, cost factor, time frame, precautions, maintainance, longevity and other important aspects.