Quality Dentistry, Affordable Cost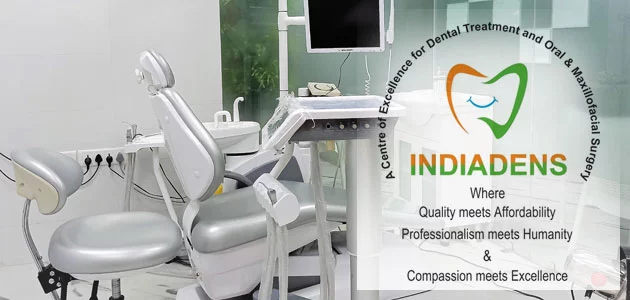 Indiadens is one of the best dental clinics in Hauz Khas, South Delhi and is located in SDA Market. The motto of the clinic is "Where Quality meets affordability, Professionalism meets Humanity and Compassion meets Excellence". A six-pronged approach is self-explanatory for Indiadens to be a centre of excellence for Dental treatment and oral and maxillofacial surgery and implantology.
Team Indiadens: An elite team of professionals from all the specialities of dentistry have come together under the leadership of Dr Ujjwal Gulati to provide multispeciality dental treatment at affordable/reasonable cost to all the patients. Dr Ujjwal Gulati is regarded as one of the best dentist / dental surgeon in South Delhi. The team also involves highly trained and compassionate ancillary staff including chair side assistants, front desk executives and janitors. The laboratory staff is also one of the finest and at par with global standards.
Quality Assurance: The team is committed to providing supreme quality services at par with international standards at reasonable price. Any treatment rendered is followed up and heart and soul poured in to address the minutest concern raised by any patient. Although the chances are extremely low with the quality of care provided, still if the need arises repairs / rectifications / replacements are done without any additional fee from the patient.
Cutting Edge Technology: It is one of the few clinics globally to have an in-house minor operation theatre equipped with high end infrastructure and equipment to make all the minor surgical procedures extremely safe and smooth. The procedures include
complex/advanced dental implant surgeries, surgeries for wisdom/impacted teeth, treatment of fractured/broken teeth and jaws, surgeries/management of cysts and tumours, esthetic procedures such as botox and fillers, mole removal, scar management etc.
The clinic also has the best in-house inhalational/conscious/nitrous oxide sedation facility (MATRIX® USA) which is also present in extremely few clinics across the globe. This is a boon for patients who are apprehensive, have anxiety or are extremely fearful of the treatment. It is also widely used in making kids undergo dental procedure happily. The clinic also possesses the world class dental laser (BIOLASE® USA) which in turn is used for many minor surgeries and esthetic procedures. There are multiple advantages of lasers over the conventional treatment and one may refer to the DENTAL LASER section on the website www.indiadens.com for further details.
Lab Support: Indiadens is proudly associated with the best laboratories for assistance and fabrication of various appliances and prosthetics. These laboratories are internationally acclaimed and accredited for their work.
Luxury Experience: The clinic has extremely soothing and nature laden ambience with comfortable and spacious seating arrangement for accompanying person. The patients are given personalized care with priority appointments and minimal waiting time. The attending ancillary staff is highly courteous and are eager to serve people with a warm heart.
Affordable Pricing: The icing on the cake is the affordable fee structure which has been structured considering the statement, "if it is not affordable, it is not healthcare for maximum Indian population". We strive hard to bring the international standard dental care at much reasonable price to all our patients. As it is said, "Excellence is not an act, it is a habit" and we practise it every day for our patients to experience the best dental care possible.