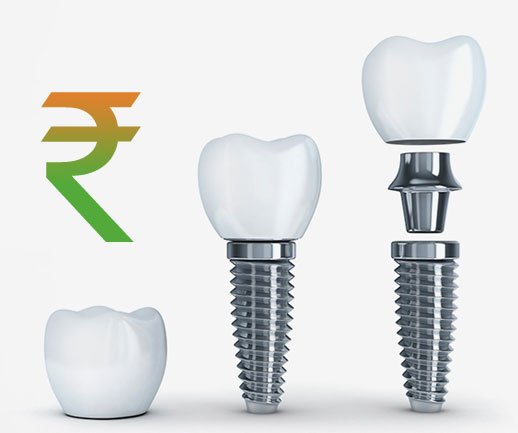 Dental implant is a titanium screw that resembles and functions like the root of the artificial tooth/teeth to be placed in the mouth. Over this titanium screw, the tooth is placed which is made of either metal-ceramic or zirconia(metal free). Both of them resemble natural teeth in appearance. Dental implant-supported teeth are considered to be the next best alternative to a natural tooth in most of the circumstances.
The cost of the dental implant treatment varies and depends upon many factors.
Company of implant: It is one of the major factors determining the cost of the procedure. Implants of companies of worldwide repute like Straumann, Nobel biocare, Dentium, Osstem, Biohorizon, Dentsply, etc are all available at Indiadens.
Type of tooth: It is the second most important factor in determining the overall cost of the procedure. For eg. A casted PFM over ready-made abutment costs less than an all-ceramic (Metal free)crown over a custom zirconia abutment.
Complexity of the procedure: Sometimes we have to do additional surgical procedures to enhance bone or modify soft tissue around the implant which may not be very important for immediate results but are extremely necessary for long term function and success of an implant. These procedures also add on to the overall cost of the implant prosthesis.
Infrastructure and technology: It is an extremely important component which determines the success rate of implants. A sterile operative setting equipped with the latest armamentarium which is upgraded regularly is the need of the hour. Indians is one of the very few centres to possess a state-of-the-art dedicated minor OT for dental implant surgeries. It is also equipped with dental lasers and inhalational/nitrous oxide/ sedation.
Experience and expertise of the doctor: This is one of the paramount factors which would determine not only the success rates but also the cost of the dental implants. Dr Ujjwal Gulati, who is one of the leading implant surgeons in India heads the dental implantology team at Indiadens and makes sure to deliver a "No Compromise Implant Dentistry Services".
Location of practice: An office located in a major city like Delhi would have more overhead expenses compared to a semi-urban practice.
We at Indiadens offer a unique blend of all the above virtues at highly affordable rates. The cost of a single implant at Indiadens starts from Rs.18000/- only. We believe in the statement "dental implants for all" and to make it happen we make sure that "Quality meets affordability"at our esteemed centre.
In case of a full-arch (jaw)/full-mouth rehabilitation, we offer 'all-on-4' dental implants and 'all-on-6' dental implants.
The ALL-ON-4 concept requires the strategic placement of 4 implants in each arch over which teeth can be placed. When a full arch (single jaw) receives fixed teeth over 4 implants, it is called 'All-on-4'. Similarly, when a full arch (single jaw) receives fixed teeth over 6 implants, it is called ALL-ON-6. The implants can be of different companies like Nobel biocare (Nobel all-on-4), Straumann (Straumann pro-arch), etc.
We personalize the treatment plan for every patient based on many factors such as availability of bone, quality of bone, medical condition of the patient, willingness for bone grafting procedures, age of the patient, dietary considerations, build of the patient, etc.
So, the cost of full dental implants on one arch or both arches would depend on all the factors mentioned above.
Kindly fill up our implant analysis form and receive your free quote (estimate of treatment).