Are you considering getting a cosmetic procedure on your face? Before you do anything, be sure to speak with a trained and qualified medical professional regarding your options so you know your procedure is safe.
Cosmetic surgeries are meant to enhance the visual appearance of facial structures and features. It is important to understand that cosmetic procedures can be done in two different ways:
Invasive Surgeries, and
Minimally Invasive Surgeries
Indiadens is one of the leading centres for surgeries of the face and jaws with Dr. Ujjwal Gulati, Chief Oral-Maxillofacial Surgeon, leading the team of face surgeons.
Indiadens is one of the few dental centres globally to possess highly equipped separate minor OT for these surgeries. All minor surgeries are performed under local anaesthesia and/or inhalation sedation in the minor OT. However, major surgeries are performed in hospital settings under general anaesthesia.
INVASIVE SURGERIES
Orthognathic Surgery (Corrective Jaw Surgery)
It is performed by an oral and maxillofacial surgeon to correct irregularities of teeth and jaws. The surgery serves the purpose of functional improvement but can also enhance a patient's appearance drastically. Orthodontics alone can only correct teeth (or bite) related problems whereas if there is a discrepancy in the way the jaws are positioned, then orthognathic surgery comes into play.
The orthodontist and oral surgeon together plan the movements of the teeth and surgical change in the position of the jaws. The patient and his family are involved in the decision-making process.
The process usually starts with the correction of teeth followed by a surgical correction, however, in certain cases surgeries can be done first. This is followed by final levelling and alignment of teeth.
Here are two examples of orthognathic surgery performed by Dr. Ujjwal Gulati.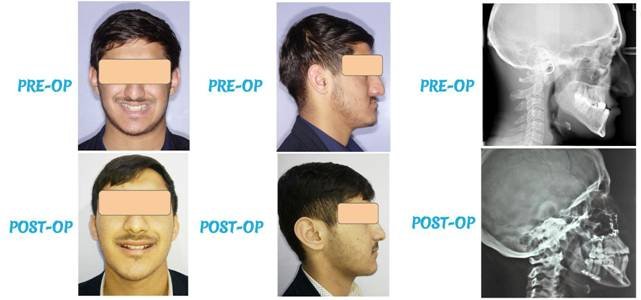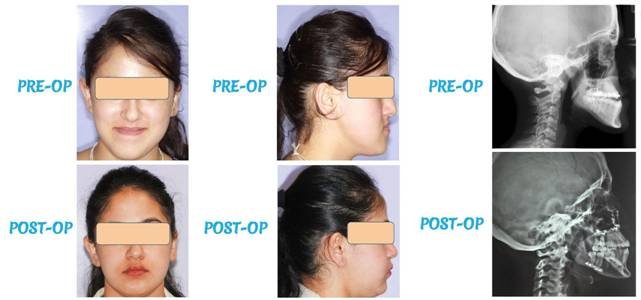 Chin Surgeries (Genioplasty)
Genioplasty or "chin surgery" or "chin makeover" is commonly performed as a less invasive surgery with excellent and predictable results. It is generally associated with very high patient satisfaction. It may be used to make the chin "more" or "less" prominent.
It is a daycare procedure and in most cases, the patient is discharged on the same day.
Nose Surgeries (Rhinoplasty)
A nose is one of the areas on the face which defines our facial projection. A symmetric and structured nose in harmony with the proportions of the face can dramatically alter the esthetic appearance. If you are unhappy with the appearance of your nose, we are here for you.
Bilateral Sagittal Split Osteotomy (BSSO)
BSSO is a procedure which can manipulate the lower jaw in many ways. It can be used to elongate or shorten or tilt the lower jaw in all three dimensions. It may be used alone or in conjunction with upper jaw procedures and genioplasty to transform the face into a more symmetric and harmonious form.
WHY INDIADENS?
Highly skilled and experienced surgery team: The surgery department is headed by our Director and founder "Dr. Ujjwal Gulati", who is an Oral and Maxillofacial Surgeon in India and is well-known for his proficiency in dealing with highly complex oral and maxillofacial surgery cases. His skill and experience along with the latest armamentarium make surgical treatment at Indiadens a unique and unforgettable experience.

State-of-the-art minor OT: We have an in-house minor operation theatre equipped with an ultramodern armamentarium to render the best treatment under ideal sterile settings.

Inhalation sedation: The OT is also equipped with an inhalational sedation facility for apprehensive/fearful patients.

World-class infrastructure and equipment: The surgery department at Indiadens is equipped with ultra-modern equipment like atraumatic electric motors, piezosurgery unit, laser, PRF (platelet-rich fibrin) centrifuge, etc. to give you the best surgical experience.

Reasonable charges: The icing on the cake for all patients is that in spite of such high-quality standards in infrastructure and human resources, the cost of treatment at Indiadens is extremely reasonable.
At Indiadens, a highly equipped dedicated Minor Operation Theater has been made for surgeries of the face and the oral cavity. This ensures a smoother procedure in a sterile environment.