A smile is the first thing most people notice in you – A beautiful and smiling face reflects a happy and confident person as it can knock down barriers that stand between you and your content life.
Who does not want a beautiful, radiant and healthy smile?
It not only enhances your looks but also helps you gain self-confidence and eliminate the anxiety of communicating socially. Not having an appealing smile can make you self-conscious and hesitant in public. With a remarkable smile comes the confidence of succeeding both on the professional and personal front.
What is Smile Designing?
Smile designing is a cosmetic dental procedure that modifies the present corrects teeth shape, shade, proportions and relation to lips and gums and drastically improves your dental health and appearance.
It involves a customized treatment and long-lasting results for a straighter, whiter, healthier, and natural-looking smile. It is a comprehensive process involving a multi-disciplinary approach to improve the esthetics of your smile in accordance with the structure, shape and complexion of your face.
What is Digital Smile Designing?
Digital Smile Designing (DSD) is a unique approach to smile designing that has revolutionised modern dentistry. It is a technical tool used to modify and design the patient's smile digitally.
This simulation is done by creating a digital mock-up of their new smile design and it helps the patient to visualise it before the treatment actually starts.
What Can Smile Designing Do?
Correct the alignment of the teeth
Whiten and brighten teeth
Make the front teeth symmetrical in height and width
Help patients' smiles match the curve of their lips
Achieve a better gum-to-teeth ratio
Reduce the risk of tooth decay and gum disease
Dramatically boost patient confidence
Give a younger and healthier look to the entire face
Who Should Opt for Smile Designing?
An individual who wants to:
Look younger – A smile design can take years off of your appearance.
Have more confidence when they smile.
Make an investment in their dental health and overall appearance.
Improve their chances for career advancement or success.
Ensure good oral hygiene by taking care of their teeth.
A comprehensive dental esthetic treatment can consist of anything from simple full-mouth teeth cleaning and whitening to the restoration of the entire mouth.
At Indiadens, we formulate a custom-tailored smile design plan, utilising state-of-the-art technology and materials. Here are a few examples of the smile designing cases successfully done at our clinic.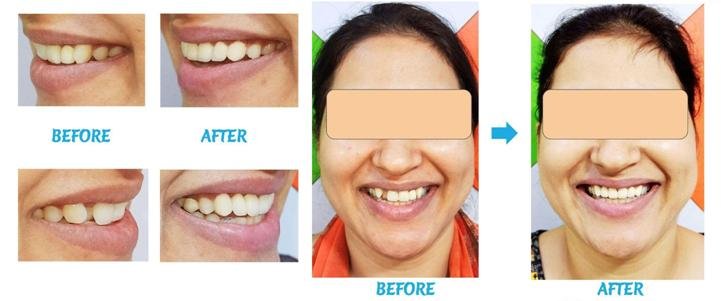 Why Indiadens?
Highly skilled and experienced team: With an experience of more than 17 years, Dr. Ujjwal Gulati and Dr. Mehvash Gulati along with their team leave no stone unturned to give you the best possible smile.
Best ceramist across the globe: Indiadens works with the best laboratories and the best ceramists to give you the finest esthetic results.
State-of-the-art minor OT: Indiadens (SDA) has an in-house minor operation theatre equipped with an ultramodern armamentarium to render the best treatment under ideal sterile settings.
Inhalation sedation: The OT is also equipped with an inhalational sedation facility for apprehensive/fearful patients.
World-class infrastructure and equipment: Indiadens is equipped with ultra-modern equipment like atraumatic electric motors, piezosurgery unit, laser, PRF(platelet-rich fibrin) centrifuge, etc. to give you the best experience.
Reasonable charges: The icing on the cake for all patients is that in spite of such high-quality standards in infrastructure and human resources, the cost of treatment at Indiadens is extremely reasonable.
The above-mentioned factors make Indiadens one of the best dental clinics in Delhi NCR for all dental procedures, especially Digital Smile Designing, Smile Makeovers, Cosmetic Dentistry. Digital smile designing is nowadays considered the most modern and patient-centered smile designing process.
Dr. Ujjwal Gulati (Oral-Maxillofacial and Cosmetic Surgeon) is highly regarded in this field and has been awarded as "Best Dentist of the year" by "The International Pride Awards". In addition to cosmetic dentistry, he performs cosmetic surgeries on the face (if needed) to impart a holistic esthetic outcome to his patients.
"One smile can't change the world… But your smile changes ours!"