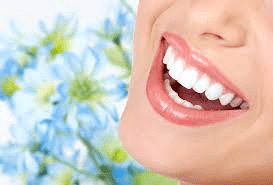 Teeth Whitening
Teeth whitening helps to make your teeth whiter and brighter. This has a huge impact on the overall smile appearance of a person. However, the impact of teeth whitening is not permanent and must be coupled with regular dental cleanings, daily brushing, flossing and moderating foods, drinks or substances.
At Indiadens, we prefer Laser Whitening of Teeth. This has many advantages over routine bleaching/whitening procedures.
Laser Tooth Whitening Benefits
Immediate results
Quick
More efficient/ higher shade jump
Painless/rare chances of any sensitivity
Safe and noninvasive
Lasts longer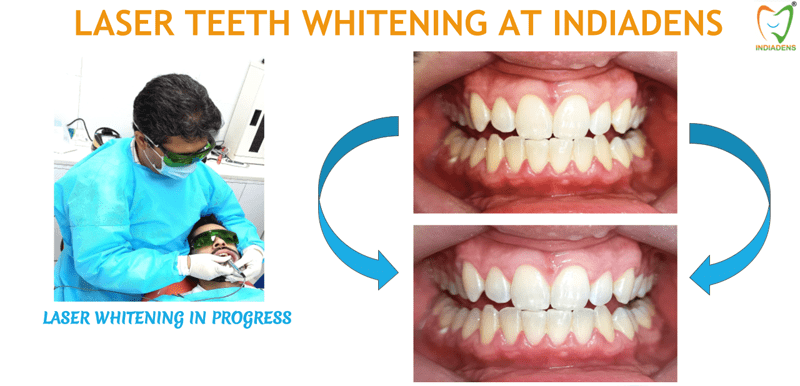 The patient can see whitened teeth just after the procedure and carry a brightened smile to any occasion or event.
The results of the procedure last for a long time hence the patient can carry a brightened smile for a long time without any worries.
We at Indiadens, one of the best dental clinics in Delhi NCR strive to provide long lasting effects to our patients so they feel satisfied at heart.
Direct Veneers / Composite Veneers / Dental Bonding
A tooth-colored material applied to repair damaged teeth.
It corrects several dental issues, including chipped, decayed, badly shaped, or cracked teeth.
It is an extremely good, quick and economical option but the life of direct veneers is approximately 5 years.
Indirect or ceramic veneers may cost a bit more but are longer lasting and more esthetic.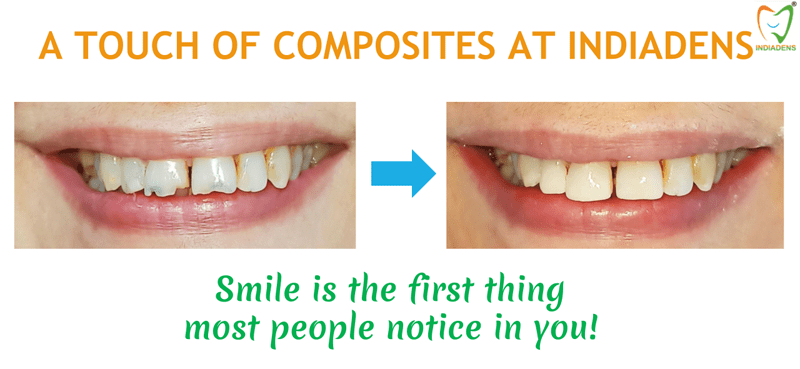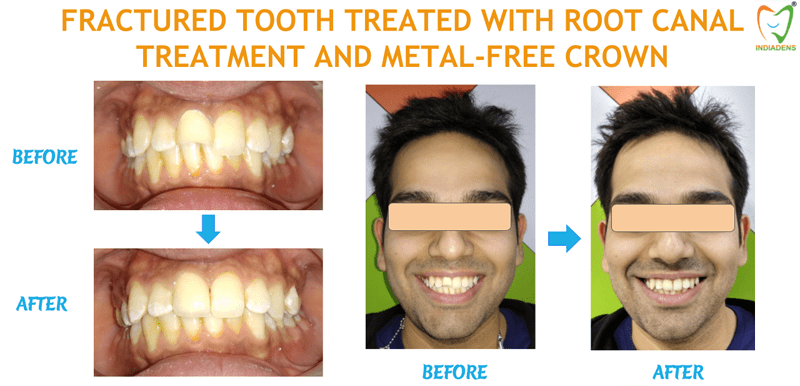 Indirect Veneers / Porcelain Veneers / Ceramic Veneers
These are thin shells of ceramic/tooth-colored material customized for each tooth and each patient.
They are fused/bonded to the outer/upper surface of the tooth to change the shape, color or even the size.
Their strength and resilience are comparable to natural tooth enamel.
Indirect veneers can withstand more abrasions and resist fractures better than direct veneers.
They are also referred to as Laminates.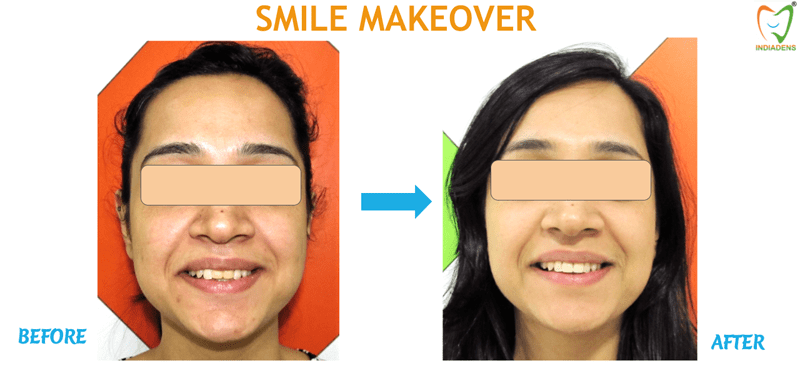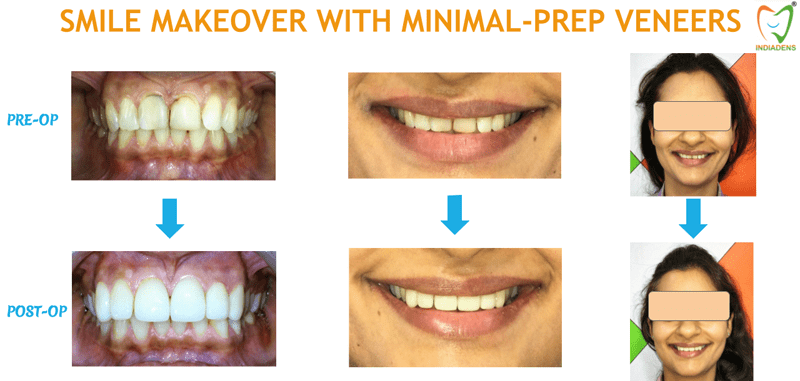 Dental Crowns and Bridges
A dental crown is a tooth -shaped "cap" or covering that is placed over a tooth to restore its size, shape, strength and to improve its appearance.
A bridge is used to replace one or more missing teeth by joining an artificial tooth to adjoining teeth.
Dental crowns and bridges are used to fill gaps in the teeth, replace missing teeth or they improve teeth structure and function if it is in a compromised state.
All ceramic layered crowns are preferred at places where better esthetics is the primary concern because their color and translucency resemble that of a natural tooth. These are mostly used in front teeth.
When dealing with posterior teeth, all-ceramic restorations with high strength are preferred. Their aesthetics is relatively lower when compared to the layered all-ceramic prosthesis, but the strength is higher, which is required for biting food, especially with posterior teeth.