What are dental implants?
A dental implant is a titanium screw that resembles and functions like the root of the artificial tooth/teeth to be placed in the mouth. Over this titanium screw, the tooth is placed which is made of either metal-ceramic, composite, zirconia(metal free) or acrylic. All of them resemble natural teeth in appearance.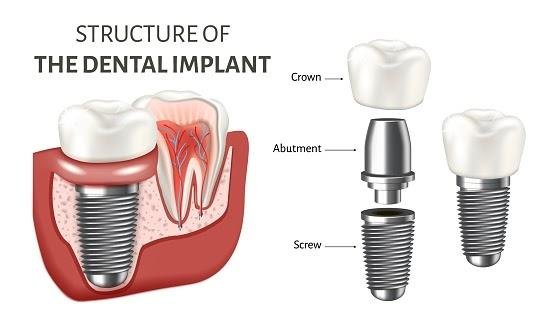 Dental implant-supported teeth are considered to be the next best alternative to a natural tooth in most circumstances. A dental implant may be used to replace single or multiple teeth in the mouth.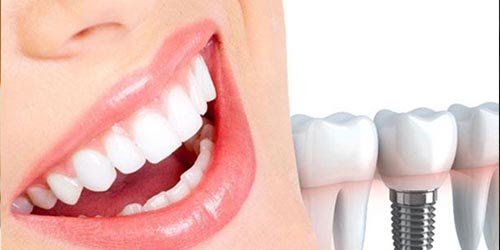 At Indiadens, dental implants of all the leading international companies like Straumann, Nobel biocare, Densply, Dentium, Osstem, etc are available.
How do dental implants work?
Dental implants work by getting integrated (fusing) into the bone of your jaws. This process is called osseointegration (Osseo means bone and integration means to get united or fused. Once the implant gets integrated into the jaw bone, it is ready to serve as the root of the tooth to be placed over it. Therefore the dental implant is not the tooth per se, but the artificial root(made of a titanium alloy) which supports the tooth attached to it.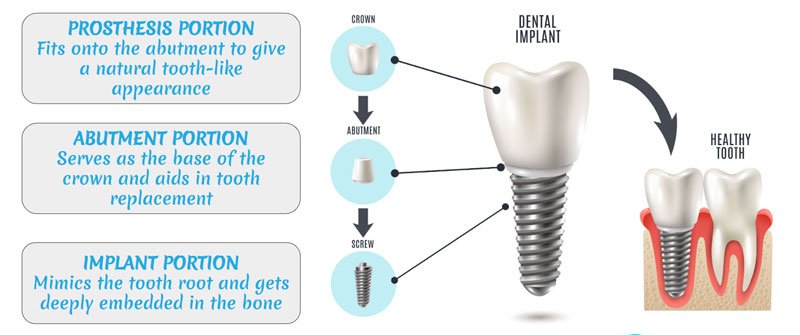 At Indiadens, every patient is given an option to choose from the company of implant and type of tooth placed over it.
What are the steps of dental implant treatment? Or What is the process of dental implant treatment?
Placing a dental implant usually involves several steps.
Phase 1 (Surgical phase): First, your dentist will surgically plant a post made of titanium into your jawbone. This is a minor surgery and should preferably be performed by an experienced surgeon. It is more of a technical and fine procedure than an aggressive one. As you heal, the implant will fuse with the natural jawbone, a process known as osseointegration. This creates a sound foundation for your replacement teeth.
At Indiadens, all complex implant surgeries are done by Dr. Ujjwal Gulati, our Director and founder. He is amongst the best Oral and Maxillofacial Surgeons in Delhi NCR, India, with keen interest in complex dental implantology cases.
Phase 2 (Prosthetic phase): In the next step(After 2-6 months), a small connector called a healing abutment or healing screw is placed on top of your dental implant to make space for the tooth to be connected to the implant. Once the gums attain their proper shape and form, a customized tooth is attached to the implant which resembles your natural tooth.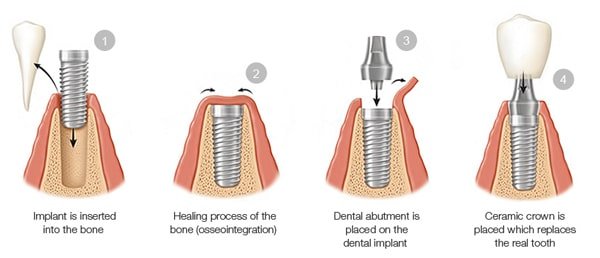 How much time does it take to get a dental implant done?
This is a very subjective question. The current technology allows us to place the teeth over the implant in the same sitting. However, these are provisional restorations and need to be changed after a certain period of time. However, the immediate placement of teeth over implants depends upon many factors and cannot be generalized to all patients.
Conventionally, the duration of implant treatment may vary between 2 months to even more than a year depending upon the quality and quantity of bone present.
At Indiadens, we customize the treatment plan as per the patient factors and convey the same to patient in the most transparent manner.
How painful is the procedure?
The dental implant surgeries are done under strong local anesthesia at Indiadens. We are one of the few centers globally to possess inhalational or conscious sedation facility. It is very helpful in case of apprehensive and fearful patients. Moreover, the surgeries are done by one of the leading dental implant surgeons/doctor in Delhi NCR, India with extreme care. This makes the patient experience par excellence.
Many implant patients comment that they were surprised at how minimal the pain and discomfort following the treatment was. Watch our patient describing their experience
What is the cost of dental implants?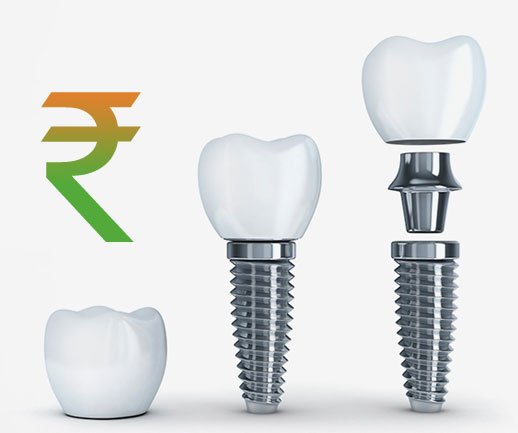 The cost of dental implants in Delhi, India varies and depends upon many factors:
Company of implant: It is one of the major factors determining the cost of the procedure. Implants of companies of worldwide repute like Straumann, Nobel Biocare, Dentium, Osstem, Biohorizon, Dentsply, etc are all available at Indiadens.
Type of tooth: It is the second most important factor in determining the overall cost of the procedure. For eg., A casted PFM over a ready-made abutment costs less than an all-ceramic crown over a custom zirconia abutment.
Complexity of the procedure: Sometimes we have to do additional surgical procedures to enhance bone or modify soft tissue around the implant which may not be very important for immediate results but are extremely necessary for the long term function and success of an implant. These procedures also add to the overall cost of the implant prosthesis.
Infrastructure and technology: It is an extremely important component which determines the success rate of implants. A sterile operative setting equipped with the latest armamentarium which is upgraded regularly is the need of the hour.
The experience and expertise of the doctor: This is one of the paramount factors which would determine not only the success rates but also the cost of the dental implants.
Location of practice: An office located in a major city like Delhi would have more overhead expenses compared to a semi-urban practice.
At Indiadens, the cost of Dental implant placement starts from INR 15000 only. Kindly fill up our implant analysis form and receive your free quote (estimate of treatment).
What is the life of dental implants?
This is a question to which a direct answer is not possible. It depends not only on the expertise of the surgeon performing the implant but also on many patient factors. Dental implants may be adversely impacted by tobacco in any form, pan masala/betel nut in any form, poor oral hygiene, uncontrolled diabetes or conditions affecting bone metabolism, and intake of drugs like bisphosphonates.
However, dental implants are a very successful treatment with long lasting results and the success rate is in the high 90's.
What is the right age for dental implants?
As they say "Age is just a number". It doesn't mean that age is not at all a factor to be taken into consideration. Medical fitness or general health of the patient is more important. A patient may be medically fit to undergo dental implants at the age of 90 and maybe deemed unfit even at 45-50 years of age.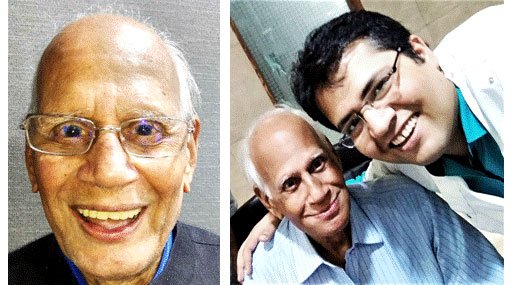 The eldest patient operated on for dental implants by doctors working at INDIADENS ( Dr. Ujjwal Gulati ) has been 89+ years.
What are All-on-4 and All-on-6?
This concept is utilized in cases where the whole jaw needs replacement. This requires strategic placement of 4 or 6 implants in each arch over which 12-14 teeth can be placed. When a full arch (single jaw) receives fixed teeth over 4 implants, it is called "All-on-4" and similarly if the number of implants increases to 6, it is called "All-on-6".
This concept has gained a lot of popularity in recent times. More implants are preferred but the final treatment plan depends upon the availability of bone and the willingness of the patient for grafting procedures.
In our practice, we personalize the treatment plan based on many factors such as availability of bone, quality of bone, medical condition of the patient, willingness for bone grafting procedures, age of the patient, dietary considerations, built of the patient, etc.
Dr Ujjwal Gulati is well known for delivering "Teeth in a day" or immediate loading for patients undergoing "All-on-4" or "All-on-6". (Click here to visit our implant gallery)
What is sinus lift/sinus grafting? Or What is the ridge split procedure? Or What is GBR (Guided bone regeneration)? Or What is bone grafting in implants?
These procedures are necessary if the bone volume is deficient for an implant of adequate diameter and length to be placed into the bone. These can be categorized into three main headings for the purpose of understanding
Sinus Lift Surgery: The upper jaw(maxilla) has an air-filled space called "maxillary sinus" present above the roots of posterior(back) teeth. This space tends to increase at the expense of bone if the teeth have been absent for a long time. Also, chronic loss of teeth causes disuse atrophy of bone. These two factors cause the bone volume to become deficient over a period of time. This deficiency doesn't allow adequate/recommended diameter of the implant to be placed. In such cases, bone substitutes are placed between the membrane of the sinus and bone (sinus floor). These bone substitutes when placed with proper technique and in sterile settings, mature into the dense bone which allows the implants to be anchored into it. The sinus lift surgery is of two types: Direct/lateral window and crestal/indirect. The direct/lateral window procedure is used when the bone is highly deficient. Both of these procedures have very high success rates when done in a proper sterile environment.

Guided Bone Regeneration: There can be instances where the bone is deficient over the crestal area or absence of a wall (complete or partial) in cases of immediate extraction or extremely low width of bone for accommodating the recommended diameter of an implant. In such cases, the bone graft (from the patient's body/animal bone/synthetic bone) is placed alone or in combination with a thin layer of tissue called a membrane. This helps in the regeneration of bone in the desired region. This may be done along with the implant if the bone volume deficiency is not beyond a certain limit. Else, first, the bone has to be regenerated and once that has happened, the implant can be placed.
Ridge Split Procedure: In case of deficiency of the width of bone, one of the procedures involves widening the bone of the mandible by splaying apart the two hard layers of bone and placing an implant in between. The empty space left is filled with bone graft and covered on top with a membrane.
Why Indiadens?
Indiadens offers a unique blend of high-quality treatment at an affordable price.
Highly skilled and experienced implantology team: The implantology department is headed by our Director and founder 'Dr. Ujjwal Gulati', who is an Oral and Maxillofacial Surgeon and is well-known for his proficiency in dealing with highly complex implantology cases. His skill and experience along with the latest infrastructure and biomaterials make dental implant treatment at Indiadens a unique and unforgettable experience.
State of the art minor OT equipped with ultramodern equipment including Sedation facility: We have an in-house minor operation theatre equipped with an ultramodern armamentarium to render the best dental implant treatment under ideal sterile settings. It is one of the very few dental implant centers/clinics which is also equipped with an inhalation/conscious sedation facility for dental implant treatment.
World-class biomaterials: The dental implantology department at Indiadens brings together the products and equipment from internationally acclaimed companies like Straumann, Geistlich Pharma, Nobel Biocare, Novabone (MTF biologics), W&H, Biolase, Johnson & Johnson, Dentium, Osstem, etc to make sure that our patients receive the best treatment as per international standards.
Transparent system: The patients are detailed about the make/company of each and every biomaterial used. The same principle is applied to the type of prosthesis fabricated over the implants. The treatment summary is handed over in writing to the patient.
Reasonable charges: The icing on the cake for all patients is that despite of such high-quality standards in infrastructure and human resources, the cost of treatment at Indiadens is extremely reasonable.