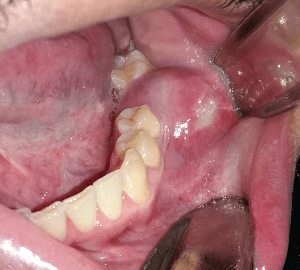 Most of the cysts grow very slow and can take years for the patient to notice them. By this time they have done significant damage inside. In rare instances, the dental cysts or tooth cysts or jaw cysts can get infected and grow faster.
What is a jaw or dental cyst?
Tooth cysts or jaw cysts or dental cysts are small balloons present in the jaw bone or tissue, filled with body fluid. These balloons keep growing big in all three dimensions as the balloon sucks more fluid onto it.
As the balloon grows in size, it destroys or displaces the tissues around it. This tissue may be bone, a nerve, a vessel or any other vital structure of the body.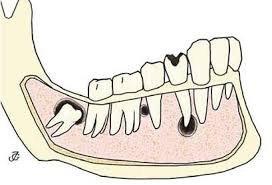 What causes cysts?
Long standing cavities or spoiled/rotten teeth.
Wisdom teeth, which do not come out completely(impacted)
Trauma to the tooth
Other teeth which are impacted
Abnormal ways in which a tooth has developed.
Some are associated with genetic mutations or genetic syndromes.
Few unknown reasons.
Symptoms
How do dental cysts behave?
Jaw cysts mostly show less symptoms or no symptoms.
They are very slow growing in nature and so go unnoticed for years.
Mostly discovered accidentally in the initial stage while doing x rays for some other problem.
In rare cases of infection, they may cause pain.
As the cyst grows it may result in bone and tooth roots around it to resorb and as it enlarges it can push the surrounding structures like teeth , nerves and blood vessels.
More aggressive cysts can cause nerve damage and loss of function.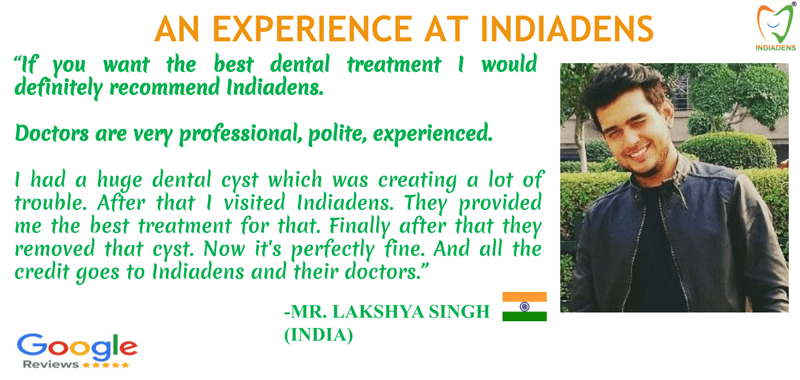 Diagnosis
Tests required
Dental x ray
CT scan
MRI
Biopsy for laboratory analysis
Treatment of Dental Cyst
Treatment of dental cyst depends upon the type and size of the cyst. Small and non aggressive cysts can be treated under local anesthesia at clinic. Large and aggressive cysts require removal under general anesthesia in the hospital.
There are three main types of treatment for a dental/jaw/tooth cyst.
Enucleation: Cyst Removal Surgical Procedure
It is the complete removal of a cystic capsule including cystic lining so there will be very less chance of recurrence.
One step procedure, but not suitable for large cysts.

Marsupialization: Cyst Decompression Surgical Procedure
Decompression of cyst by making a small hole and removing all fluid from it.
A permanent mouth is created in the cyst through which dressings are done for months to reduce the size of the cyst and cure it.
Resection: Part of Jaw Containing Cyst or whole Jaw Removal Surgical Procedure
In rare cases, the cyst can be very large or very aggressive for which part of jaw containing the cyst or whole jaw needs to be removed. These cases require hospital admission and operation under General Anesthesia.
Indiadens - A state-of-the-art center for Oral & Facial surgeries.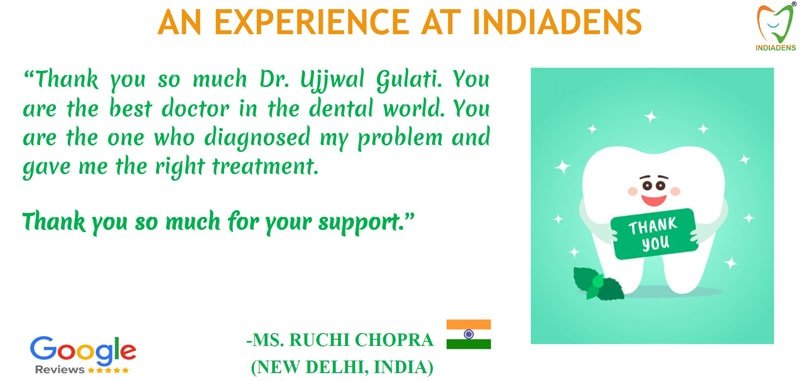 Dental Cyst Removal Cost
At Indiadens, Dental Cyst Surgery Cost starts from INR 6000/- (per tooth) only for radicular cysts.
What makes Indaidens special?
Highly skilled and experienced surgery team: The surgery department is headed by our Director and founder "Dr. Ujjwal Gulati", who is one of the best Oral and Maxillofacial Surgeon and is well-known for his proficiency in dealing with highly complex oral and maxillofacial surgery cases. He has been awarded "Best Dentist of the Year award" for his professional excellence.
State-of-the-art minor OT: We have an in-house minor operation theater equipped with an ultramodern armamentarium to render the best treatment under ideal sterile settings.
Inhalation sedation: The OT is also equipped with an inhalational sedation/conscious sedation/nitrous oxide facility for apprehensive/fearful patients.
World-class infrastructure and equipment: The surgery department at Indiadens is equipped with ultra-modern equipment like atraumatic electric motors, piezosurgery unit, laser, and PRF(platelet-rich fibrin) centrifuge, etc. to give you the best surgical experience.
Reasonable charges: The icing on the cake for all patients is that in spite of such high-quality standards in infrastructure and human resources, the cost of treatment at Indiadens is extremely reasonable.
This is why Indiadens is considered one of the best dental clinics in South Delhi for minor surgical procedures third molar extraction. Another reason for Indiadens being one of the most preferred clinics in Delhi NCR (India) for wisdom tooth removal is the extremely reasonable cost of wisdom tooth removal in spite of high-end infrastructure, supreme levels of sterilization and the best of dental professionals.