Special circumstances require special attention and your wisdom tooth needs a specialist's expertise to be removed smoothly from your mouth. In such cases, a highly specific surgical approach is required.

At Indiadens, we offer a dedicated surgical facility (Minor OT) for such complex surgical procedures. The surgical department is led by Dr. Ujjwal Gulati himself, who is one of the best oral and maxillofacial surgeons / best dental specialists in Delhi NCR.
This is why Indiadens is considered one of the best dental clinics in Delhi NCR for minor surgical procedures like wisdom tooth extraction. Another reason for Indiadens being one of the most preferred clinics for wisdom tooth removal is the extremely reasonable cost of wisdom tooth removal in spite of high-end infrastructure, supreme levels of sterilization and the best of dental professionals.
Here are the 7 most important reasons that would clarify why it is recommended to visit an oral surgeon for complex extractions and/or wisdom tooth surgery.
Wisdom teeth very frequently fail to erupt normally – They can have a more angled position, may erupt partially, or may not erupt at all. If they are angled, then they may require a small incision in the tissue before accessing the tooth.
Complex root anatomy / multiple roots / irregular shaped roots – These are very common in wisdom teeth. They may have multiple roots shaped in different ways, or they may be fused and curved.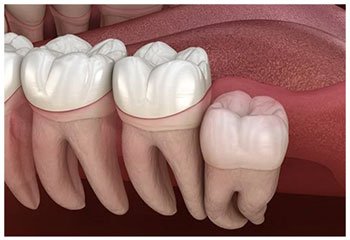 The roots of wisdom teeth may be very near to the underlying nerve – Wisdom teeth with irregularly shaped roots and curvature are challenging to remove especially in the lower jaw due to their proximity to the nerve.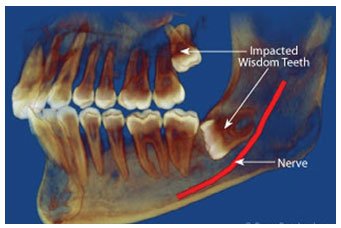 In rare cases, a cyst or tumour may develop around an impacted wisdom tooth

Oral surgeons are specialized to handle the most complex of wisdom teeth removal – This reduces the chances of complications that otherwise are more common in these teeth compared to other teeth in the oral cavity.
More experience – Oral surgeons spend the majority of their time performing minor and major surgical procedures rather than more general dental procedures like cleanings and fillings. As a result, they have extensive experience in performing wisdom teeth extractions efficiently, safely and in a way that promotes faster healing.

Additionally, some procedures are more complicated than others. Since Oral surgeons regularly deal with infected, damaged, and impacted teeth, they have the experience to manage concerns or complexities effectively.
Anaesthesia training – One of the many reasons general dentists refer patients to oral surgeons is because they have extensive training in administering anaesthesia – be it local or sedation. At Indiadens, we have a state-of-the-art infrastructure and a well-equipped minor operatory that allows us to perform surgical procedures safely and efficiently.
We hope that this blog helped you understand why choosing an oral surgeon for your surgical procedure can allow you to have confidence in the care you receive.
Explore more information about the surgical procedures at Indiadens, or contact us today for an initial consultation.