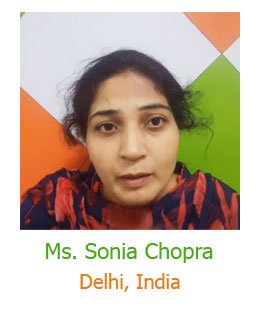 Here is another experience shared by one of our patients,

Ms. Sonia Chopra, who was extremely apprehensive before getting her treatment done. She had been facing multiple problems including undiagnosed recurrent pain which neither let her eat or smile properly.

She was treated by Dr. Ujjwal Gulati for her neuralgic pain and was relieved of her pain completely.
Her dissatisfaction with her smiling appearance was a big motivating factor for her to undergo smile correction. This was supported by her great experience initially. After the smile designing / makeover, she is extremely confident, flaunting that beautiful smile of hers.
Her perception about dentistry has completely changed. Earlier believed the dental procedures to be painful and stressful, she is now convinced that dentistry can be well within one's comfort zone.
Book an Appointment with
Dr. Ujjwal Gulati
Oral and Maxillofacial Surgeon in Delhi, India
Book Clinic Visit